Chamber of Pain
It was another wonderful time partying again. We stayed up until 5:30(Chris, Brett, and I). We went to Mcdonalds at 5am. Talked to a garbage man before they would actually let us in to Mcdonalds. Some chunks flew from good ol' chris and a whole bottle of Jack Daniels was finished off by Brett and I. Chris downed his down home punch and a whole bottle of ALIZE. Good times were had and gambling was done. In the end it was a good time.
---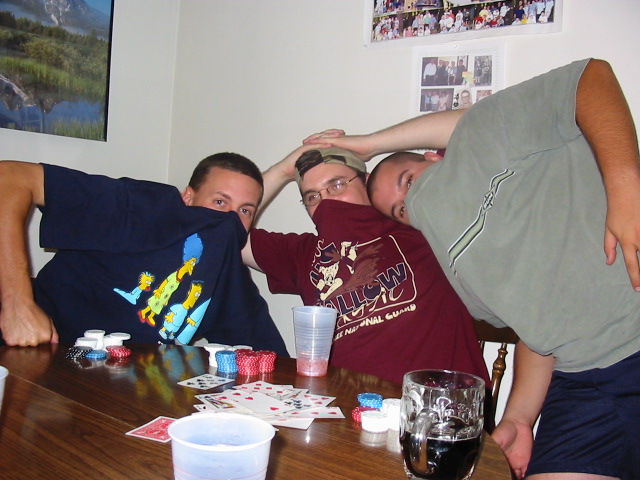 Josh was ripping ripe farts all night. Just us shielding ourselves from the stinch.
---
Josh showing off his heisman trophy pose
A little pre-poker goofiness
Close up of my ugly mug
Josh and his cross-eyed YA face
Brett and a goofy face of his own
Chris and his happy face
Chris and brett doing the running dance
Josh doing the running dance with himself
Chris ordering our Pag's pizza for the night
Josh shuffling cards with his scary face
The I.O.U. he gave chris for the pizza(You can actually read the note)
Chris and his pondering of a question pose
Josh giving his cup a YAH!!!
Becking getting in on the WAZZUUPP
The boys doing the running dance to Nelly
Two more JD's for brett and myself
I think brett just ripped one and chris has that face like, "OH YEAH"
Josh and the red tongue of death
Another shot of the red tongue of death
Brett and I finished a whole bottle of Jack Daniels, beat that New York Yankees
Me riding the bike inside the apartment
Josh with his rock and roll pose
Brett cleaning the chunks out of the sink
He(chris), is OK everyone!!!!
I am just being an idiot as usual
I don't think chris realized what was goin on(It's a brett tongueing
I believe josh is zoned out
Brett and the tongue
I think josh is knocking on an imaginary door
Brett rolling his tongue
Me crying over spilt JD
Chris is unhappy, I am not sure what about, maybe the chunks
The pizza that lasted about 2 hours with us
Josh in the morning, after sneezing for 3 hours
Brett enjoying the cotton mouth in the morning
The damage of THE CHUNKS
---