BASEBALL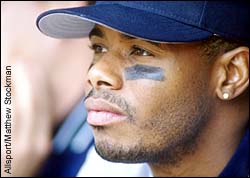 ---
Baseball is of course our nations past time sport. There is 162 games, through six months of play. A team plays almost 6 days out of the week. We don't have the every sunday type of ordeal. Don't get me wrong. Football is great and a whole other subject, but it doesn't have the grueling games every day of the week. You have to hit this little baseball that is about 3 3/4" inches in diameter with a baseball batt that is the same size in diameter. One of the most eye-hand coordinated sports ever. Yes, every player doesn't get an attempt at defense, but when that opportunity comes, they jump and goe all out. And hitting is another subject. To try and hit a little 3 3/4" inch basball at 95 mph is an accomplishment. And if you have never got the chance to bat against a curve ball, slider, or split-finger than you have tried anything yet. That adds another difficulty to the game. I played baseball for 16 years and have found it to be the most exciting sport to play. Just the feeling to hit a run in, or even possibly to hit in the winning run. Also pitching that whole game, coming through for your team in tough conditions. "BASEBALL IS A GAME OF HEART" --Keith Mundt #3
---
Ballpark's I've seen games in
Comiskey Park - Chicago, IL - Home of the Chicago Whitesox (4 times)
Picture in the car of Comiskey
Roger Clemens warming up
Jeter, Jiambi, and Bernie Williams running cals.
Jeter playing catch before the game
Clemens throwing the first pitch

Cinergy Field - Cincinnati, OH - Home of the Cincinnati Reds (1 time)(Only one to go to Cinergy Field thank you)






Busch Stadium - St. Louis, MO - Home of the St. Louis Cardinals (1 time)
The a building that looks like the Capital building in front of the Arc
The statue of Stan Musial outside of Busch Stadium
The scoreboard and outfield bleachers at Busch
The start of the game at Busch Stadium (Cards vs. Reds)


Miller Park - Milwaukee, WI - Home of the Milwaukee Brewers(2 times)see below
Miller Park outside walking to the entrance
Inside Miller Park for all the festivities.
The scoreboard at Miller Park denoting Workout Day 2002
Inside Miller Park at night while they were closing the roof
Miller Park fully closed because it was raining and lightning
Homerun Derby - Miller Park
Scott Rolen and Richie Sexon having a chat
Todd Helton, Luis Gonzalez, Shawn Green and hitting Coach Tracy talking...
A-rod and Sammy messing around.

Soon - Pro Player Stadium
Pro-Player stadium outside, driving in.
A shot from our seats before the game
The view from our seats
A night shot of the field during the game
Some dedicated fan of 400 at the game
Another shot of the dorky ass fan
The score in the 9th when it was still 0-0.

Next Year - Trip to as many ballparks as I can in the west in a week or so
---
Griffey knows it's out
Griffey and his Dad(REDS)
Griffey's sweet swing
The perfect follow threw
The best wall catch
Close up of intensity
---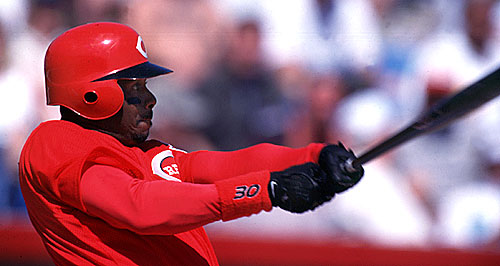 Ken Griffey    #30
Full name: George Kenneth Griffey 
Born: 11/21/69
Birthplace: Donora, PA 
Height: 6'3" 
Weight: 205 
Position: CF 
Bats: Left 
Throws: Left 
MLB Debut: 04/03/89 

        G    AB  R    H   2B 3B  HR  RBI TB   BB  SO SB CS   OBP   SLG   AVG   
   
  YTD    

Year   Team  G    AB   R   H   2B   3B   HR   RBI   BB   SO   SB   CS   OBP   SLG   AVG   
1989   SEA  127  455  61  120  23    0   16    61   44   83   16    7  .329  .420  .264   
1990   SEA  155  597  91  179  28    7   22    80   63   81   16   11  .366  .481  .300   
1991   SEA  154  548  76  179  42    1   22   100   71   82   18    6  .399  .527  .327   
1992   SEA  142  565  83  174  39    4   27   103   44   67   10    5  .361  .535  .308   
1993   SEA  156  582 113  180  38    3   45   109   96   91   17    9  .408  .617  .309   
1994   SEA  111  433  94  140  24    4   40    90   56   73   11    3  .402  .674  .323   
1995   SEA   72  260  52   67   7    0   17    42   52   53    4    2  .379  .481  .258   
1996   SEA  140  545 125  165  26    2   49   140   78  104   16    1  .392  .628  .303   
1997   SEA  157  608 125  185  34    3   56   147   76  121   15    4  .382  .646  .304   
1998   SEA  161  633 120  180  33    3   56   146   76  121   20    5  .365  .611  .284   
1999   SEA  160  606 123  173  26    3   48   134   91  108   24    7  .384  .576  .285   
2000   CIN  145  520 100  141  22    3   40   118   94  117    6    4  .387  .556  .271   
2001   CIN  111  364  57  104  20    2   22    65   44   72    2    0  .365  .533  .286   
 
TOTAL:     1791 6716 1220 1987 362  35  460  1335  885 1173  175   64  .379  .566  .296   

Information
---
2001 Highlights:
In his second consecutive injury-plagued season hit .286 in 111 games and 92 starts...led the club with 22 HR and with 65 RBIs ranked third behind Sean Casey (89 RBIs) and Dmitri Young (69 RBIs)...were his lowest homer and RBI totals since 1995 (17 HR, 42 RBIs), when he appeared in a career-low 72 games for the Mariners because of a broken left wrist. Was bothered all year by a torn left hamstring...during spring training suffered from soreness in his left hamstring, an injury dating back to 9/11/00...while rounding third base on 3/26 vs the Royals at Baseball City suffered a partial tear of that same muscle. Because of the injury, made his first 16 appearances of the season as a pinch hitter (0-12, 3 BB, 2 IBB, 5 K, 1 HBP) until he went on the disabled list on 4/29...was reinstated from the DL on 6/15 and that night vs Colorado made his first start of the season in the Reds' 65th game.
Hit safely in his first nine games after coming off the DL (.371, 2 2B, 2HR, 8 RBIs, 7 R)...in 95 games after he returned from the DL hit .295 with all 22 HR and 65 RBIs...the Reds went 25-39 (.391) prior to his first start on 6/15 and 41-57 (.418) after 6/15, including 40-52 (.435) in his 92 starts.
Missed an Opening Day start for the first time in his career... did not make the All-Star team for the first time since his rookie season (1989)...finished fifth in the All-Star voting among NL outfielders.
At 31 years, 261 days old became the youngest player in baseball history to hit 450 HR when he homered off Russ Ortiz on 8/9 vs San Francisco...was 15 days younger than the previous record holder, Jimmie Foxx.
Griffey (11 HR, 29 RBIs) and Adam Dunn (12 HR, 27 RBIs) combined for 23 HR and 56 RBIs in August...for the first time in the Reds' 133-year history, they had two players with at least 11 homers in a calendar month...their 23 homers is a club record for a pair of Reds teammates in any month and the most in the majors since Texas' Rafael Palmeiro (15 HR) and Ivan Rodriguez (12 HR) combined for 27 homers in August 1999...the previous club record was held by Ted Kluszewski (13 HR) and Jim Greengrass (9 HR), who combined for 22 homers in August 1954.
In the bottom of the 11th inning of the 5-4 victory on 8/20 vs St. Louis snapped the 4-4 tie with an inside-the-park homer off Andy Benes...was the Major Leagues' first extra-inning, inside-the-park homer to end a game since Philadelphia's Bobby Abreu did it in a 10- inning, 2-1 victory on 8/27/00 vs San Francisco...was the third inside-the-park homer of his career and the first by a Red since Chris Stynes on 6/6/98 vs Cleveland off Jaret Wright...was his second career game-ending homer.
From 8/28-9/21 went 16 games and 64 AB between his 19th and 20th homers, both season highs.
Led the club with 90 starts in CF...also started a pair of games at DH (7/6-7/7 at Minnesota)...made a team-high 91 starts batting third in the order and one start batting fourth...on 7/5 vs Pittsburgh hit cleanup for the only time all season and for the 17th time in his career.
Through 88g on 9/4 was hitting .302 (19 HR, 52 RBIs), his highest BA since 8/30/99 (.303 for Seattle)...beginning 9/5 hit .229 (3 HR, 13 RBIs) in his last 23 games of the season...hit .310 with RISP... began the season 0-for-13, his longest hitless skid of the season, until he singled off Ron Villone on 6/15 vs Colorado.
Hit his first homer on 6/19 vs Milwaukee (solo off Ben Sheets) in his fourth start of the season...on 7/15 and 7/16 vs Detroit hit three HR in two games (5 RBIs), including his only two-homer game of the season (7/16 vs Detroit, 2 HR, 4 RBis)...on 9/22 at Milwaukee recorded his first sacrifce bunt since 1996...from 8/1-8/11 had a season-high 10-game hitting streak (.333, 5 HR, 11 RBIs), raising overall BA from .288 to .300...from 8/17-8/23 recorded at least one RBI in a season-high seven straight games...had 29 multi-hit games, including 22 two-hit games, six three-hit games and a four-hit game on 8/23 vs St. Louis...had seven infield hits and three bunt hits... finished the season 3-for-24 in his last seven games, dropping BA from .297, and went hitless in his last 10 AB to drop BA from .294. Personal:
GEORGE KENNETH GRIFFEY JR:
In his first two seasons with the Reds was hampered by a torn left hamstring but still produced 62 HR and 183 RBIs.
Ranks among Major League Baseball's all-time leaders with 14 career grand slams (T10th), 460 HR (23rd), 1,335 RBIs (68th) and 1,220 runs scored (131st). Is the youngest member of MLB's All-Century Team presented by MasterCard...was only 29 years old when voted to that prestigious team in 1999 and joined Roger Clemens, Mark McGwire and Cal Ripken Jr. as the only active players on that roster. In voting of his peers was named Player of the Decade for the 1990s...that decade among all Major Leaguers ranked second with 382 HR (Mark McGwire 405) and second with 1,091 RBIs (Albert Belle 1,099).
In a November 2000 poll by ESPN, joined Mark McGwire and Sammy Sosa as the top three players fans would pay to watch play.
Was the 1997 American League Most Valuable Player, only the 13th player ever voted that award unanimously. Has won 10 Rawlings Gold Glove Awards (1990-99) and is a member of the Gold Glove Award All-Time Team.
Has won seven Louisville Silver Slugger Awards (1991, 1993-94, 1996-99). From 1990-2000 was voted to the starting lineup in 11 consecutive All-Star Games...five times led the Major Leagues in All-Star voting and in 1994 received an all-time record 6,079,688 votes...in 13 years on the All-Star ballot has received 33,291,675 votes, the most in history and almost eight million more than runnerup Cal Ripken Jr.'s 25,323,231 tallies...three times won the All-Star Game's home run contest (1994, 1998, 1999)...was the 1992 All-Star Game's Most Valuable Player...the Griffeys are the only father-son duo to both homer and receive MVP honors in an All-Star Game...Ken Sr. accomplished both feats in 1980.
Seven times has been named to The Sporting News' American League All-Star Team (1992-94, 1996-99), including its Player of the Year in 1997.
Six times has been named to The Associated Press' Major League All-Star Team (1991, 1994, 1996-99).
Twice was named to UPI's American League All-Star Team (1991, 1993). Twice was named American League Player of the Month (April 1990, April 1997)...nine times was named American League Player of the Week (most recently from 6/29-7/5, 1998). Four times led the American League in homers (1994, 1997-99).
Among all Major League players the last 10 years ranked fourth with 400 HR and sixth with 1,094 RBIs...in the last five years ranked fourth with 222 HR and sixth with 610 RBIs...his 351 homers during Bill Clinton's presidency were the most by any Major League player.
Is the youngest player ever to hit 350 homers (28 years, 308 days), 400 homers (30 years, 141 days) and 450 homers (31 years, 261 days).
On Opening Day 2002 will be 32 years, 131 days old...in the first 13 years of his career averaged 35 HR, 103 RBIs and 94 runs per season...at his current pace would tie Hank Aaron's all-time record of 755 homers at age 40 in 2010.
Has 460 career homers, 23rd-highest total all-time and third among active players (Barry Bonds 567, Jose Canseco 462)...is one of only four players ever to hit 40 HR in seven different seasons (Ruth 11, Aaron 8, Killebrew 8)...is one of four players to hit 40 HR in five straight seasons (Ruth 7; Kiner 5; Snider 5)...is one of five players to hit 40 HR in both leagues (DaEvans, McGwire, Justice, Green)...is one of five players to hit 40 HR in consecutive seasons for different teams (Galarraga, Palmeiro, GVaughn, ARodriguez). Is one of only three players with at least 140 RBIs in three straight seasons (1996-98), joining Babe Ruth and Lou Gehrig.
Is one of only three players with 50 HR and 20 SB in a season (56hr, 20sb in 1997), joining Willie Mays (51 HR, 24 SB in 1955) and Brady Anderson (50 HR, 21 SB in 1996). Owns or shares three Major League home run records, including most HR through the end of April (13, 1997), most consecutive games hitting HR in each game (8g, 7/20-7/28, 1993) and most three-run HR in a season (13, 1996)…holds American League records for most HR through the end of May (24, 1997) and most HR through the end of June (32, 1994). Shares AL records for most HR through the end of July (41, 1998), homers in most ballparks during a season (16, 1998) and most consecutive years with 50 or more HR (2, 56 HR in 1997 and 1998).
Three times has hit 20 HR prior to 6/1, the only player to do it more than once...has seven career HR on Opening Day (most recently on 4/5/99 vs Chicago's James Baldwin), second-highest total in Major League history (8, Frank Robinson)...in his career has 46 multi-HR games, including 44 two-homer games and a pair of three-homer games (5/24/96 vs New York Yankees, 4/25/97 at Toronto).
Has homered off 289 pitchers and 28 teams in 34 different ballparks...has homered in every existing stadium except Pittsburgh's PNC Park (18 AB), Florida's Pro Player Stadium (26 AB), Atlanta's Turner Field (29 AB) and Detroit's Comerica Park (14 AB)...has homered against every Major League team except the two teams for which he has played...has three career inside-the-park homers (8/20/01 vs St. Louis off Andy Benes, 6/20/90 at Kansas City off Kevin Appier, 5/21/89 vs New York Yankees off Clay Parker), two game-ending homers (8/20/01 off St. Louis's Andy Benes, 8/24/95 off New York Yankees's John Wetteland) and three pinch-hit homers (9/19/00 at San Francisco off Livan Hernandez, 9/16/90 vs California's Bryan Harvey, 5/16/89 vs Milwaukee's Bill Wegman)...with 14 career grand slams is tied with Manny Ramirez, Mark McGwire and Gil Hodges for 10th on the all-time list.
In interleague play has 28 homers, tied with Carlos Delgado for most in the majors...with 69 interleague RBIs ranks T3rd, tied with Mike Piazza and J.T. Snow and trailing Sammy Sosa (77 RBIs) and Delgado (75 RBIs).
In 1989, while Senior played for the Reds and Junior for the Mariners, the Griffeys became the first father-son duo to play in the Major Leagues at the same time...on 8/31/90 vs Kansas City, while both played for the Mariners, they became the first father-son duo to appear in the same lineup...in the first inning on 9/14/89 at California, the Griffeys hit back-to-back HR off Kirk McCaskill.
When traded to the Reds following the 1999 season held Mariners franchise records in nearly every offensive category, including games, at bats, runs, hits, HR, RBI, total bases, extra-base hits and slugging percentage...his career batting average of .299 was third in Mariners history (EMartinez .320, ARodriguez .308)...hit 198 HR in the Kingdome, including 20 into the third deck in RF...six times was voted Player of the Year by the Seattle chapter of the Baseball Writers Association of America (1990-91, 1993, 1997-99)...in 1989 was voted Seattle Post-Intelligencer's Sports Star of the Year. Married, wife's name is Melissa...they have two children, son Trey Kenneth (1/19/94) and daughter Taryn Kennedy (10/21/95).
Is a 1987 graduate of Cincinnati's Moeller High School, where he played football for three years and baseball for four years...was named his league's Player of the Year in 1986 and 1987.
Received the 1994 Celebrity Recognition Award from the Make-A- Wish Foundation and the A. Bartlett Giamatti Award from the Baseball Assistance Team (BAT) in recognition of his "caring for fellow citizens."
Is on the national board of directors for the Boys & Girls Clubs of America...every December since 1993 sponsored Christmas dinners for 350 kids from the Rainier Vista Boys and Girls Clubs...John Hancock made a $2,500 donation in his name to the Boys & Girls Club of America...in August 2000 he hosted 75 kids and 25 chaperones from the Boys & Girls Clubs of Cincinnati, Orlando and Seattle...in addition to providing tickets to the games, he attended parties at Jillian's and Kings Island...in September 2000 he donated $10,000 worth of school supplies to the Boys & Girls Club of Greater Cincinnati...Major League Baseball contributed an additional $1,000 to that project, while the School, Home and Office Products Association (SHOPA) contributed another $5,000. Was the Reds' nominee for the 2000 Roberto Clemente Award presented by John Hancock, given annually to the Major Leaguer who combines outstanding skills on the field with devoted work in the community......was Seattle's Roberto Clemente Award winner for community service in 1996, 1997 and 1998.
On 6/28/01 received the Hazel Kolb Brighter Image Award for bringing attention to the sport of motorcross...following the 1993 season made his acting debut in the movie Little Big League ...also had a part in the 2001 movie release Summer Catch.
---